Put your space on the Map with our Google Virtual Tour Services. Experience Media is a Google Street View Trusted Photography Agency.
It's been proven that Google My Business listings with photos and a virtual tour generate more interest, increase chances of on-site visits, and establish more trust with consumers.
Experience Media is Google Street View Trusted. Reach millions of new customers by displaying your entire business on Google with a Virtual Tour. Provide a unique experience the second someone checks out your search results. First impression is everything!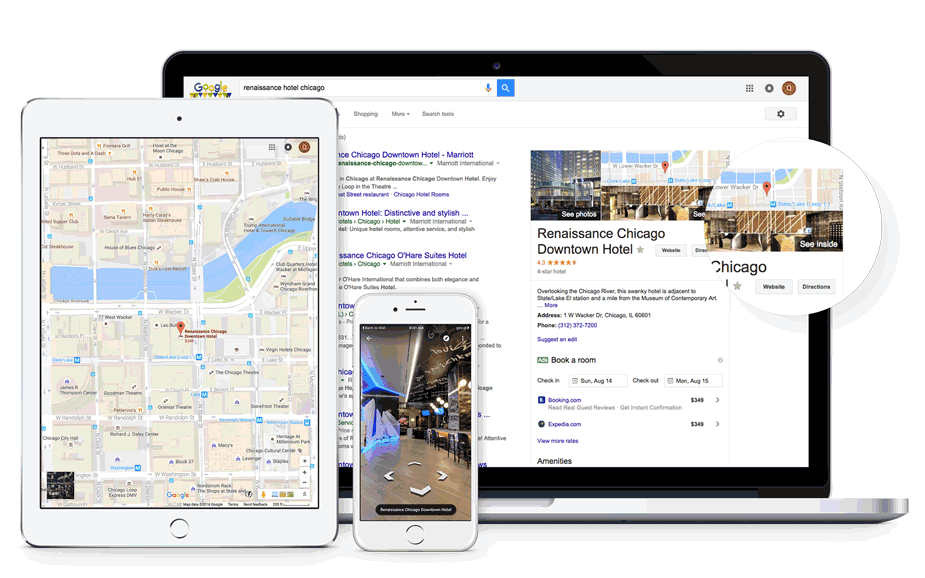 The Process is simple, we work with you to set up a time for us to come to your location. We shoot as many 360 panos as it takes to fully document your space. The larger the facility, the longer the process will take. It typically takes 1-3 hours.
Following the photography, the 360 panos are processed, stitched together, and made into a Virtual Tour. Our tour then comes with code for website embedding and a link to post on social medias, etc. Your Virtual Tour will be uploaded to your Google My Business Page within 72 hours of completion.
A Google Virtual Tour will increase your local digital traffic and help you accomplish your goals. Whether you're trying to sell a property faster, increase traffic to your e-commerce store or get more reservations for your place, Google 360 tours are here to help you.
Keep People engaged longer
Research shows that people stay on websites with Virtual Tours 5-10x longer than those without. Virtual Tours are interactive which keeps users engaged and clicking for a few minutes touring your space.
Increase Trust and Transparency
Give users the sense of really walking through your property from the comfort of their home. Show that your business is open, honest and transparent about your space instead of just claiming it.
Increase visibility and Local Rank on Google
Studies have shown that having a Virtual Tour attached to your Google My Business Listing boosts your Local SEO meaning you will rank higher than your local competitors.
Saves you Time and Money
A Virtual Tour is a one and done deal that brings many benefits from a digital marketing standpoint. Provide a 24/7 Tour to potential clients, do live video walkthroughs, shorten your sales process, and more.
Stand Out in the Crowd
Anyway you can make your business stand out in the digital age we live in is undoubtely worth it. What better way to stand out than having a 360 Virtual Tour embedded on your website and attached to your Google Listing?
Take Your Property Marketing To The Next Level.
Experience Media delivers High Quality Virtual Tours, Photography, Drone Stills & Videography, 2D Floorplans, Content Marketing and more. Contact us today to get started on your project!
We understand people work endlessly to grow their business and we want to do our best to showcase each one in the most immersive way possible. Our Interactive 3D Virtual Tours make putting your business on the map, easy and affordable.